Details

Category: U.S. National News
Thursday, 17 May 2018 11:54
Written by Hal Turner
Write a comment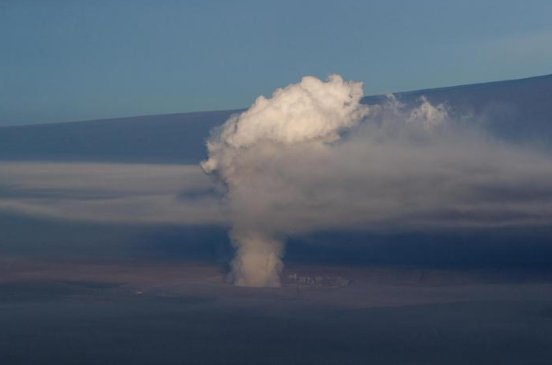 Volcano National Park on the big island of Hawaii is reporting an explosive eruption has occurred and is advising the public to shelter in place due to the ash cloud and large boulders falling from the sky after being launched out of the volcano.
This was reported 9 min ago.
The explosion was so large, it was caught on RADAR ! ! ! 
Very chaotic right now.  Trying to get more info.  Check back. . . .
UPDATE 11:56 AM EDT --
There are reports the ash plume from the explosive eruption at Kilauea's summit is 25,000 feet high!
UPDATE 12:22 PM EDT --
Staffs from HAWAII VOLCANO OBSERVATORY (HVO) and Hawai'i Volcanoes National Park had already evacuated the area.
 Here's what it looks like from the Mouna Loa volcano 30 miles away:
VIDEO
HVO/USGS Volcanic Activity Notice

Volcano: Kilauea (VNUM #332010)

Current Volcano Alert Level: WARNING

Current Aviation Color Code: RED

Issued: Thursday, May 17, 2018, 6:33 AM HST
Source: Hawaiian Volcano Observatory
Notice Number:
Location: N 19 deg 25 min W 155 deg 17 min
Elevation: 4091 ft (1247 m)
Area: Hawaii

Volcanic Activity Summary: At about 0415 this morning, an explosion from the Overlook vent within Halemaumau crater at Kilauea Volcano's summit produced a volcanic cloud that reaches as high as 30,000 ft asl and drifted northeast. Continued emissions from the crater are reaching as high as 12,000 ft asl.

At any time, activity may again become more explosive, increasing the intensity of ash production and producing ballistic projectiles near the vent.

Resource on volcanic ash hazards: https://volcanoes.usgs.gov/volcanic_ash/

Resource on vog: https://vog.ivhhn.org/

Current NWS information on ashfall: http://www.prh.noaa.gov/hnl/watchwarn/


Recent Observations:
[Volcanic cloud height] up to 30,000 ft asl
[Other volcanic cloud information] Drifting generally northeast

Hazard Analysis:
[Ash cloud] The ashcloud is drifting downwind to the northeast.
[Ashfall] Ashfall has been reported in Volcanoes National Park, and may occur further downwind.
[Other hazards] Ballistic projectiles may be produced should steam-driven explosions occur. Impacts will be limited to an area around Halemaumau.
[Volcanic gas] Vog or volcanic air pollution produced by volcanic gas has been reported in Pahala.

Remarks: Photos of this activity may be found here:

https://volcanoes.usgs.gov/volcanoes/kilauea/kilauea_multimedia_15.html


Contacts: This email address is being protected from spambots. You need JavaScript enabled to view it.

Next Notice: Additional notices will be issued should activity change significantly.
Consult the National Weather Service for specific Ashfall notifications:http://www.prh.noaa.gov/hnl/


The Hawaiian Volcano Observatory is one of five volcano observatories within the U.S. Geological Survey and is responsible for monitoring volcanoes and earthquakes in Hawai`i.