The country of Venezuela is in complete societal collapse after 119 hours without electricity in most of the country.
Below are bullet points of information coming out of Venezuela.  They need no context for the situation to be clearly understood:
"NOTHING TO EAT, EVERYTHING HAS BEEN LOOTED IN MARACAIBO, I CANNOT BUY ANYTHING"
"PEOPLE ARE LOOTING EVERYTHING IN LA CURVA DE MOLINA"
- MARACAIBO IS COLLAPSING
- 100 HOURS WITHOUT POWER/WATER SUPPLY
- WIDESPREAD LOOTING IS REPORTED EVERYWHERE
- THE ARMY IS OVERWHELMED, CLASHING WITH PROTESTERS IN SOME PARTS OF THE CITY, SOME MEMBERS HAVE JOINED THE LOOTING
- BANDS OF ARMED PEOPLE ARE BREAKING INTO BUILDINGS AND APARTMENTS TO GET FOOD/THEY ARE THREATENING THE NEIGHBORS
PEOPLE DRINKING WATER FROM THE RIVER GUAIRÓ (A POLLUTED RIVER) IN CARACAS
Looting and spontaneous protests. Desperate patients begging doctors to be kept alive. Residents bracing for wider attacks on markets and restaurants after the sun goes down.

"We're going to arrive at a moment when we're going to eat each other," said Zuly González, 40, a resident of Caracas's Chacao neighborhood.

On Thursday, the San Geronimo B substation in the center of the country, which supplies electricity to four out of five Venezuelans from the massive Guri hydropower plant, went down.

The government said the blackout was caused by an unspecified fault at Guri, which provides 80 percent of the country's electricity. No date has been set to restart the plant and most workers were told to stay home on Monday, said two of the substation's workers and a manager at the national power monopoly, Corpoelec.
Aftermath of transformer explosion/fire in south Caracas: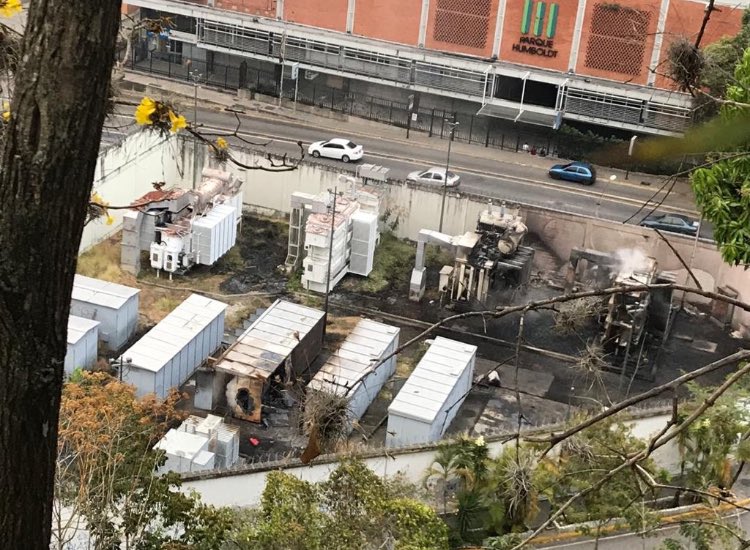 Internet connectivity keeps flat-lining as power comes back, then fails, over and over again: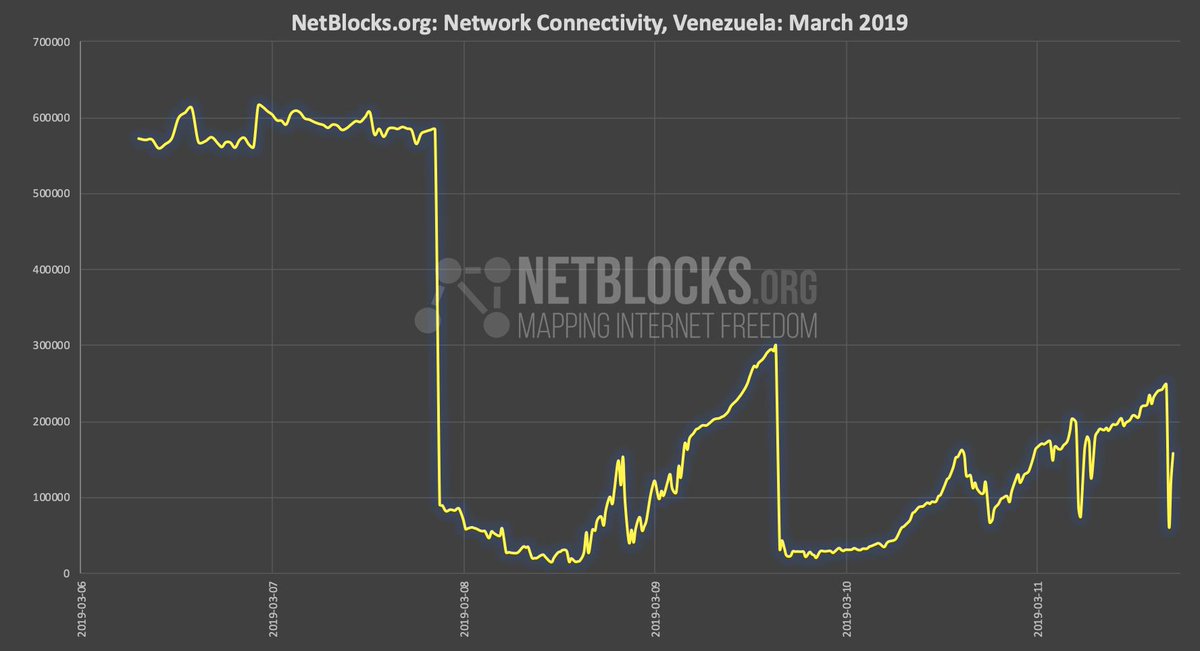 CANNIBALISM ?!?!?
Cuando la cosa esta mal y uno cree que no se puede poner peor.. empezó el canibalismo.. #Maracaibo #saqueos #TheWalkingDead #Venezuela #SOSVenezuela la ley del mas fuerte..

— Esteban Urribarri (@esturribarri) March 11, 2019
TRANSLATED:
 People are so desperate for food, they're killing and eating wild animals that are not traditionally human food . . . like this Leopard:
Meanwhile, another electrical sub-station goes up in smoke . . .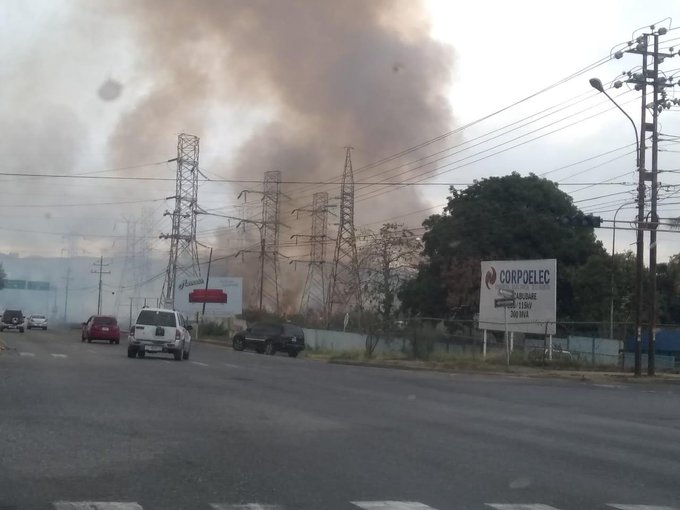 DRINKING SEWER WATER
The video below shows just how desperate things have become; people are collecting SEWER WATER running into a river, to drink . . .
Venezuela's oil production fell 13% last month. Reports indicate that output may currently be down to 0.5 mbpd due to blackouts. Unless things change, it won't be surprising if GDP falls more than 30% in 2019.
It is worth noting that Venezuela has the LARGEST PROVEN OIL RESERVES ON PLANET EARTH; more than Saudi Arabia!  Here's proof:
That country _should_ be living a life of wealth beyond the dreams of Avarice; yet they're broke, thirsty, starving.  Why?
Socialism.  That's why!
Reports of Looting and shootings going on in Caracas happening right now!
Venezuelan prosecutor general Tarek William Saab announces a new investigation into Juan Guaido for "national electrical sabotage"
Venezuela give U.S. diplomats 72 hours to leave, blames Trump for Blackout

Venezuelan President Nicolas Maduro has said two would-be saboteurs have been caught "in flagrante delicto" trying to take down the communications system of the Guri hydroelectric dam. Investigation into who sent them is underway.
After a failure at the Guri dam left much of the country in the dark on Thursday night, authorities worked round the clock to fix the problem, managing to restore nearly 70 percent of the electrical system before a cyberattack knocked it out again on Saturday afternoon, Maduro said, adding that one of the generators had been working perfectly and could only have been sabotaged by an infiltrator. The Guri hydroelectric plant produces 80 percent of Venezuela's power.
While stressing that the "Venezuelan state has to act" to hold those to blame for the "electrical criminal coup" responsible, Maduro praised the "effort and behavior" of Venezuelans who have remained at peace despite the prolonged blackout. He denounced the sabotage as a "serious violation of human rights."
While some of the country's power has been restored, Maduro has suspended school and business activities for Tuesday as much of the nation remains in darkness.
Secretary of State Mike Pompeo, who has been relentlessly pushing for Maduro's ouster for months, along with the rest of the Trump administration, claimed the outages are due to "years and years of neglect," due to the "mismanagement and greed" of Maduro's government. He denied US responsibility for the blackout while proclaiming that the US is "interested only in the welfare of the Venezuelan people."
'Not a single drop of water has entered Caracas since Thursday March 7'. The pumping system can't be restarted until 600MW of power are available.
IT CAN HAPPEN HERE . . .
No one in Venezuela ever imagined their country could literally fall apart in days.  That's precisely what is taking place.
As much as we might dislike having to admit this; the same thing can happen here.
 The continental United States has three (3) electric power grids: Eastern, Western, and Texas.
While our Capitalist society sees to it that investment is made in infrastructure to keep it well-maintained, an unforeseen circumstance like a Coronal Mass Ejection from the Sun, hitting us directly, __could__ knock out our electric grids in one fell swoop.  An act of terrorism could damage key components of our grid, causing Cascade Failure.  An Act of war could see our electric grid infected with Malware that causes the system to physically destroy itself.
NONE of us is expecting any of this . . . just like the people in Venezuela did not expect decades of bad design and poor maintenance to come together in one fell swoop to wreck their national power grid.  Yet right now, Venezuela is 119 hours into grid failure and ANARCHY is taking over.
No water from Municipal Water systems is pumping. 
Hospitals either did not have generators or now cannot get fuel to keep their generators running.
Doctors are operating on patients by flashlight.
Trucks have no fuel to deliver food.
Stores have no electric to keep food refrigerated.
Homes have no power to keep their refrigerated food fresh.
This same series of events CAN happen here.   
Where would that leave YOU?
Do you have __any_ Emergency food stored-up?  . . . or will you -- like the people in Venezuela -- go to a local zoo and slaughter animals like they did in Venezuela with the dead Leopard pictured above?   Here are some sources you should look into:
(Click each Ad below for Different Vendor/Selection)
Do you have __any__ emergency water stored?  Here are some sources for Water Storage Containers:
 1 gallon per person, per day is the rule of thumb.  Do the math, then get yourself the means to store a couple weeks worth of water.
Here's what they look like:
Click Here for all sizes of Emergency Water Storage CONTAINERS; from 3.5 gal. to stackable "Bricks" to 55 gallon drums
Do you have a small generator to keep your refrigerator running?  Here are some sources:
The average family refrigerator uses 1200 watts of power. The average microwave oven is 1,000 watts, but needs about 1900 watts (IN) to produce those 1,000 watts (OUT).  Of course, houses have lights, gadgets and gizmos.  You need a source of emergency electric that can supply that!  If you buy a generator with 1500 watts, you can power the frig, and maybe a couple lights, or a small  TV.  If you want to be able to run the frig and a microwave, you have to ADD the watts together to get the total, then buy a generator capable of meeting that total.  Most homes can be fully powered by 7500-10,000 watts.  Whatever your power needs, the links below the photos can show you all sorts and sizes of generators.  REMEMBER: NEVER USE A GSASOLINE-POWERED GENERATOR INDOORS BECAUSE THE EXHAUST GAS FROM ITS MOTOR RUNNING CAN KILL YOU.   THE GENERATOR STAYS OUTSIDE and powers your stuff via extension cord.
Here's what they look like:
Click Here for a Full Selection of all sizes and types of portable Emergency Electric Generators
Do you have fuel for that generator?  Or for your car?  Here sources for Fuel Storage Containers:
DO NOT STORE FUEL IN YOUR HOUSE.  It must be kept outside (on a terrace, a backyard, etc.)
Here's what they look like:
Click Here for a full selection of various sized Gasoline Cans and Caddies (Cars trucks, Generators)
Do you have a Barbecue grill or propane grill you can cook on? (You know what they look like and where to get them)
When YOUR neighbors start doing what folks in Venezuela are now doing to THEIR neighbors - robbing their food - will YOU have the gun and ammunition needed to protect yourself?   Here are some sources for guns and ammunition:
Below are links to quite a few different firearms suppliers and ammunition sources.  
BREAKING NEWS 10:03 PM EDT -- 
   NOTE: If you found this story to be informative or helpful and want to support this news site remaining in existence, please make a DONATION HERE