The U.S. has formally kicked Turkey out of the F-35 Joint Strike Fighter program over Ankara buying S-400 missile interceptors from Russia.
A statement from the Pentagon Press Secretary's Office lays out the facts:
"Turkey's decision to purchase Russian S-400 air defense systems renders its continued involvement with the F-35 impossible. The F-35 cannot coexist with a Russian Intelligence collection platform that will be used to learn about its advanced capabilities." the statement says.
Turkish pilots trained in the United States have been informed of the need to leave by July 31.
US spending $500-$600 million in non-recurring engineering costs in order to shift the F-35 supply chain away from Turkey.
"Turkey's removal from the F-35 program will have minimal impact on the larger F-35 partnership," says Dept. of Defense
Undersecretary of Defense for Acquisition and Sustainment, Ellen Lord.
Turkey "will no longer receive 9 billion dollars in projected workshare" from the program, she added.
The full text of the Pentagon statement is shown below: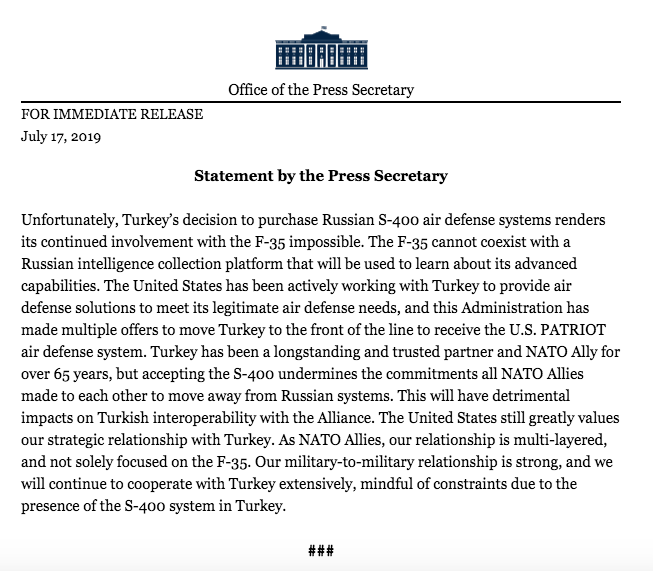 HAL TURNER COMMENTARY
Turkey is not a major player in NATO.  Technically, they are the least effective. 
They invest no funding, take what they can, and want to dictate policy.
People ask me if Turkey will be booted out of NATO following the S-400 saga. I say they never should have been allowed in.  The faster they are kicked out, the better for everyone.
If one day Greeks spot too many movements from the 62nd Airlift Wing, 4th Airlift Squadron C-17's Globemaster III at Incirlik Air Base you'll now that Turkey has been shown the door.
There are rumors circulating that Turkey will expel the US troops out of Incirlik.
REMINDER: YOU can keep this web site FREE to the General Public by clicking one or more of the 12 ads below which generates Advertiser revenue of two to three cents per click - no purchase necessary by you -- and helps offset operating costs for this web site.