The International Airport in Tripoli, Libya has been taken by force and troops from the Libyan National Army are entering the capital of Libya as you read this article (as of 2:43 PM eastern US time on April 5, 2019)
Yesterday, this web site was the ONLY U.S. or European media outlet to report that Tripoli would be attacked within 24 hours and that is now happening. (Story HERE)
Troops from the Libyan National Army under command of General Haftar are moving to oust the United Nations-created "Government of National Accord" and finally bring order to the country which has been in complete chaos since Moamar Qadaffi was overthrown.
This is a fast developing story -- check back for live updates which will appear below . . . .
UPDATE 2:58 PM EDT --
LNA Spokesperson claims a warplane took off from Misrata Airport and conducted airstrikes on advancing LNA forces south of Tripoli, BUT THOSE AIR STRIKES FAILED.
The image below, sent from Libya, shows troops loyal to General Haftar inside the international airport in the city of Tripoli, now: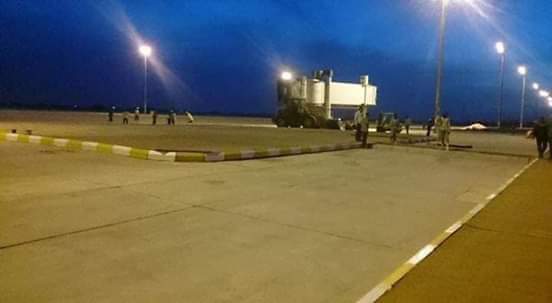 VIDEO
THIS VIDEO, JUST-IN, SHOWS GENERAL HAFTAR'S TROOPS TAKING THE TOWN OF BEN-HASHIR, 34km outside Tripoli, last night.