Food prices in the USA are set to utterly SKYROCKET as historic flooding wipes out farms and DROWNED upwards of one million cattle in the western United States.
"This is the biggest disaster, as far as damage, we've ever experienced in our state," says Nebraska Governor Pete Ricketts. We've got at least $400 million in livestock losses and $440 million in crop losses, says Ricketts.  "There may be as many as a million calves lost in Nebraska," says agriculture secretary Sonny Purdue, of the United States Department of Agriculture.
US National Oceanic and Atmospheric Administration (NOAA), is saying nearly two-thirds of the lower 48 states to face an elevated risk of flooding through May, with the potential for major flooding in 25 states across the Great Plains, Midwest and down through the Mississippi River valley.
"The flooding this year could be worse than what we have seen in previous years ... even worse than the historic floods we saw in 1993 and 2011," said Mary Erickson, deputy director of the National Weather Service.
The warning comes amid record flooding triggered by a sudden warm-up and heavy rains earlier this month brought on by the "bomb cyclone." Combined with rapid snowmelt, the factors in recent weeks have put many places in the Great Plains and Midwest underwater.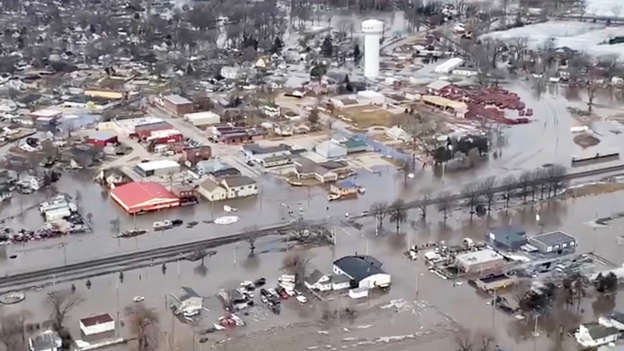 As this excess water flows downstream through river basins, the flood threat will impact more regions and could get worse, NOAA said in its outlook.
Eastern third of US due to see above-average temps
Along with the flood outlook, NOAA issued its prediction for spring weather conditions, which also outlines temperature and precipitation, as well as drought potential for April through June.
NOAA calls for above-average precipitation during the period for most of the continental United States, heightening flood concerns in many locations.
The outlook is not a day-to-day "forecast," but rather a general expectation of average weather patterns. 
HUGE ECONOMIC IMPACT ON ENTIRE USA
Nebraska is the #1 state in the US for state percentage of agland (91% of NE land is farm/ranch).
Nebraska is the #2 state for beef production (just behind Texas) and ethanol.
It's #3 in corn, and 50% of its wheat crops are exported.
It's #4 in the US for contributed Ag exports to the world market. 
Nebraska Ag made the US $7.2 Billion dollars in sales of goods on the global market, $25 Billion to the Nebraskan economy, and $104 Billion dollars to the United States GDP last year.
Almost ALL of that is now WIPED OUT.    As such, there is going to be a HUGE impact on US food prices very quickly.  Stock up.