As of 10:40 AM EDT Saturday, August 31, Hurricane Dorian has strengthened to a Category 5 Hurricane, the highest rating, with maximum sustained winds of 158 MPH.  Trouble is, the computer models have NO IDEA which way this storm is going. They disagree if there will be landfall in Florida, Georgia, or South Carolina.   The models now seem utterly USELESS.  The literal Spaghetti model (above) is probably more accurate . . .
Take a look at the diverging computer models:
And another . . .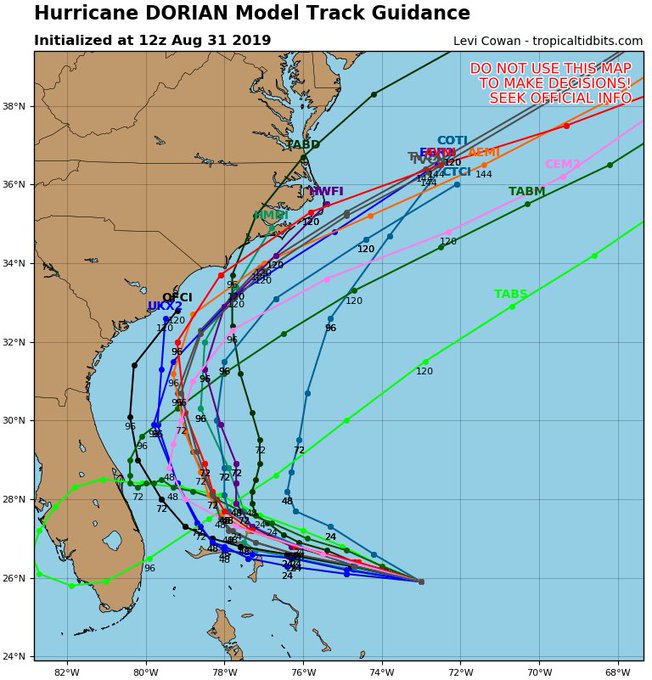 But this other model severely disagrees:
And this one disagrees with all the rest . . .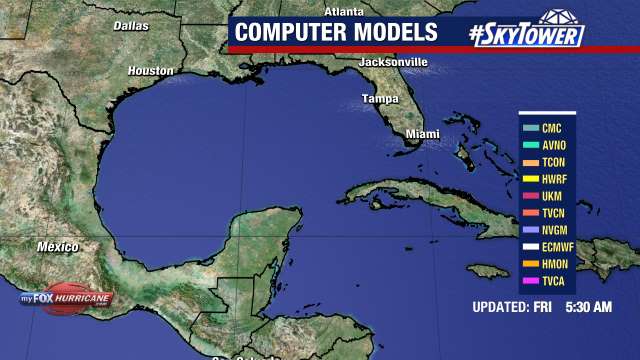 and another . . .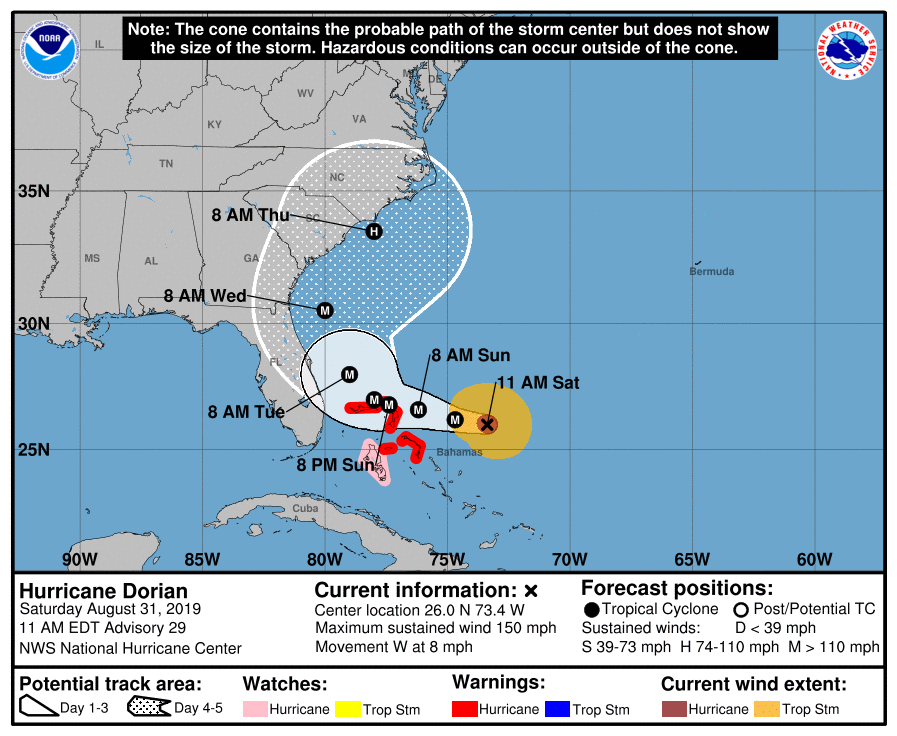 Wherever it ends up going, this storm is a MONSTER: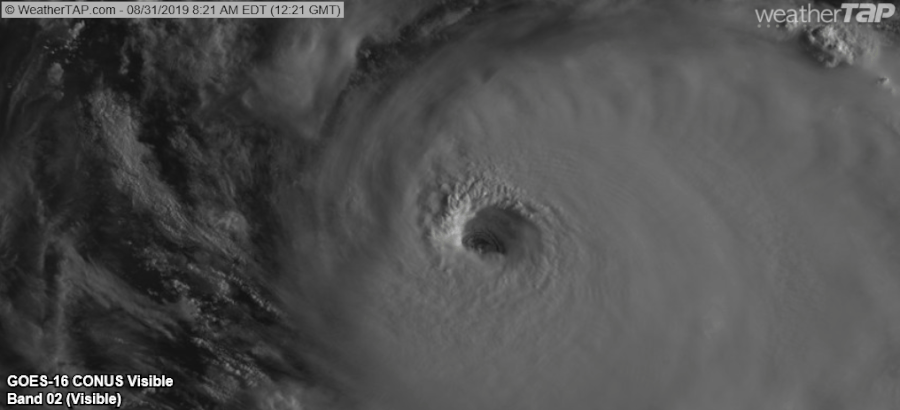 As of 10:58 AM EDT, the storm is now beginning to move over extremely warm surface waters.  It will pick up strength from that heat.
But the storm is between two High Pressure Systems, one to its northeast, the other to its south.  Those high pressure systems are forcing the hurricane west.
The High pressure system to the north is moving slowly eastward, which may open a lower pressure path northward IF it moves fast enough and IF the hurricane moves west enough.   It's a friggin guessing game right now and at-stake are the lives and property of MILLIONS of people in Florida, Georgia, South Carolina and elsewhere.
Weak steering currents & stalling storms should never be trusted. 

With 72 hours before Dorian turns north, even a 1 mph error in the storm's speed until then could result in a 72 mile error in how far west Dorian gets.

Stay vigilant. More changes could occur. It's a tough one.
As of now, the only thing certain is the storm is terrifyingly powerful and wherever it goes, someone is going to have a very big problem.  Those in the southeastern US MUST have hurricane preparations.
This storm could go anywhere and if it comes at YOU, you'd better be ready.
And you may want to think twice about paying much attention to the National Hurricane Center projections.  The 1-Minute video below shows how wide-ranging and INaccurate their computer models for this storm have actually been!
 Sure, we'd all LIKE to be able to rely on them.  But truth is, we only know two things: There's a major hurricane coming at us, AND;
The people we pay to track these things seem to have very little idea where it's going. 
For Instance The last few ECMWF ensemble cycles continue slowing down Dorian's track, w/ an increasing # of members showing a SW motion in the Bahamas.

A direct Florida landfall is still very possible.
We're on our own.  Prepare.
UPDATE 1:29 PM EDT -- 
South Carolina Gov. Henry McMaster declares State of Emergency to prepare for potential impact from Hurricane
UPDATE 1:54 EDT --
Hurricane Hunter aircraft now confirm surface wind speeds of 161 MPH sustained.  Category 5
UPDATE 2:10 PM EDT --
Mayor Francis Suarez signs emergency declaration for City of Miami for Hurricane
UPDATE 4:50 PM EDT --
Tropical Storm Watch has been issued for the east coast of Florida from Deerfield Beach to Sebastian Inlet. 
UPDATE 5:00 PM EDT --
National Hurricane Center shows Florida quasi-hit (again) in latest warning cone
As much as I enjoy being a provider of such cutting-edge news, I regret to tell you that the finances of this web site and radio show are NOT sufficient to pay its bills for August and continue in September.  Those of you who enjoy the content of this site from time to time are asked to PLEASE help out with a few bucks to the bills for this site and radio show (which total about $3100 a month) can be paid, and the endeavor can continue.
Donations can be made via the yellow DONATE button below:
Those of you who cannot or will not use online financial transactions can mail cash, check or Money order payable to:
Harold Turner
1906 Paterson Plank Road  - Apt. 1A
North Bergen, NJ   07047-1902
USA