Unstable weather conditions have set up the single worst threat of Tornadoes in decades for the area from West Texas to Oklahoma City and Enid, OK, and EVEN FROM NEW YORK STATE INTO NEW ENGLAND for later today into tonight. The danger is unprecedented and likelihood of property damage and loss of life is OFF THE SCALE!  UPDATED TO TORCON 10 
An outbreak of strong tornadoes and severe thunderstorms is expected today across parts of the southern and central Plains. In addition, many of the storms will have very large hail and wind damage.
The severe threat will be concentrated from west Texas and the Texas Panhandle eastward across Oklahoma, Kansas into western Missouri and western Arkansas. Additional severe storms with wind damage and hail will be possible this afternoon from southeast New York into southern and central New England.

...Tornado Outbreak Expected Across the Southern Plains Today Into Tonight...

...Southern and Central Plains...
An impressive and potent upper-level trough will move quickly eastward across the Desert Southwest today as a powerful 75 to 90 knot mid-level jet rounds the base of the trough. Ahead of the system, a corridor of strong instability is forecast across the Southern Plains from west Texas into the eastern Texas Panhandle and eastward into western and central Oklahoma. This combined with steep
mid-level lapse rates and strong low-level shear will be very favorable for severe storms. As the mid-level jet ejects northeastward across the southern High Plains this afternoon and evening, a tornado outbreak is likely across the southern Plains. The tornado outbreak is expected to continue into the overnight period. This event should result in a significant threat to life and property.


RAP forecast soundings late this afternoon along the instability corridor from Childress, Texas northeastward to Clinton, Oklahoma show MLCAPE values of 3000 to 4500 J/kg with 0-6 km shear in the 50 to 65 kt range. In addition, hodographs are large and looped with 0-1 km shear values in the 30 to 40 kt range. This environment should be very favorable for supercells and tornadoes. 0-3 km storm-relative helicities are forecast to steadily increase from about 300 m2/s2 in the late afternoon to about 450 m2/s2 by early evening as an anomalously strong low-level jet becomes better focused. This will be ideal for a tornado outbreak with strong tornadoes upstream and to the west of the low-level jet.

The current thinking concerning the details is that the first round of severe storms will begin early as thunderstorms initiate in west Texas and move northeastward into the eastern Texas Panhandle by mid to late morning.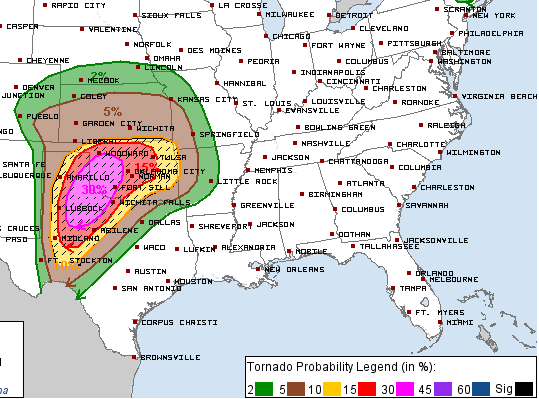 Initially, large hail will be the main threat but as these storms mature, tornadoes will be possible with the stronger and more dominant cells.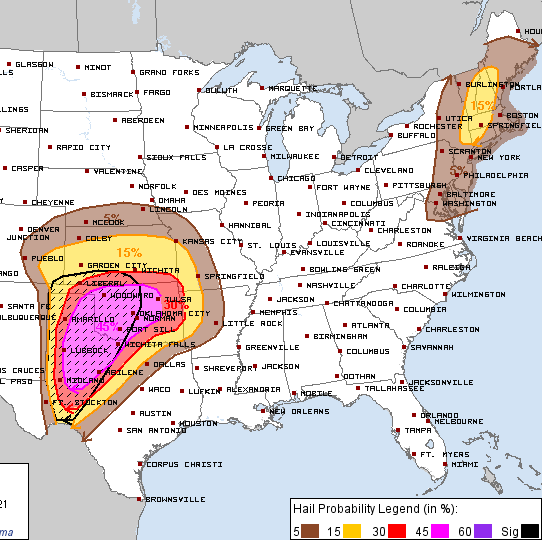 Additional supercells with tornado potential are expected to initiate near the warm front in western and central Oklahoma. A tornado threat will transition to large hail and wind damage as the storms move into Kansas to the north side of the boundary. This first round of severe storms is forecast to move northeastward, away from the warm sector, allowing for the development of extreme instability during the mid to late afternoon from northwest Texas into southwest Oklahoma.

The second round of severe storms is expected to start during the late afternoon as repeat initiation takes place in west Texas. Rapid supercell formation is forecast along the I-27 corridor from the vicinity of Lubbock northward to just south of Amarillo. A cluster of tornadic supercells is then forecast to move northeastward into northwest Texas and the southeastern Texas Panhandle during the early evening. Additional tornadic supercells are forecast to rapidly develop in southwest Oklahoma and move northeastward into west-central Oklahoma. At that time, the strengthening low-level jet will couple with a highly progressive and seasonably strong mid-level jet, making conditions favorable for long-track strong tornadoes and possibly violent tornadoes.

The greatest threat for long-track tornadoes will exist along the corridor from near Lubbock northeastward to Childress, Altus, Lawton, Clinton to just west of the Oklahoma City and Enid vicinities. After considerable deliberation, a High risk will be issued for parts of west Texas, the southeastern Texas Panhandle into western Oklahoma.

In addition to the tornado threat, conditions will be very favorable for large hail and wind damage. Strong instability, enhanced deep-layer shear and steep mid-level lapse rates will make hailstones of greater than 2 inches in diameter possible with the more intense supercells, mainly in west Texas and the western half of Oklahoma. A wind-damage threat will also exist across much of the southern Plains due to the expected intense nature of the storms. The wind-damage threat, including some gusts above 70 kt, should become widespread during the late evening into the overnight period as squall line organizes and moves quickly eastward across the
southern Plains.
BULLETIN
UPDATED TO TORCON 10 . . . CLICK HERE