Over the weekend, two vans were impounded by police within blocks of the location for a Republican political retreat scheduled for this week in Baltimore.  Was this a TERROR ATTACK PLOT to burn Republicans to death?  Some locals are saying "Yes, definitely."
The Baltimore County Fire Department reported they were on the scene of a second suspicious van carrying 660 gallons of gasoline, hours after one holding 1,000 gallons was found in a parking structure .8 miles from where the House GOP is scheduled to host their retreat on Thursday.
Here is the van with the 1,000 gallons being towed:
Here were the fire responders: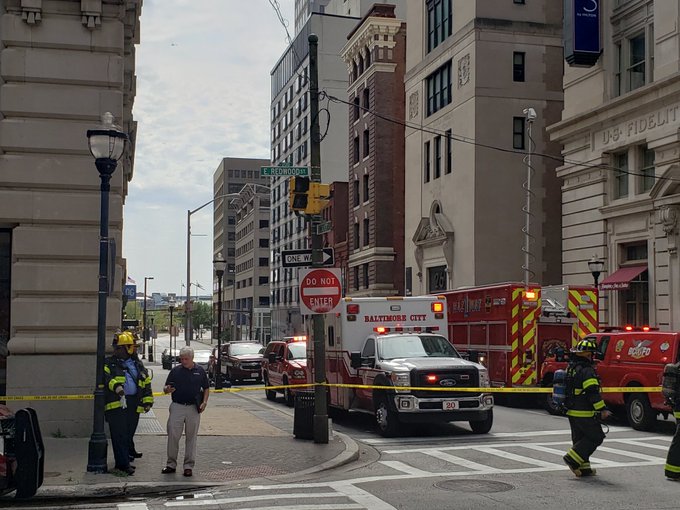 The department cleared the area and did not state whether or not there is any connection to the van found earlier in the day.
President Trump will be attending the 2019 House Republican Conference Member Retreat in the city later this week, a six minute drive from where the first van was located.
Van Packed With A 1,000 Gallons Of Gas Found Ahead Of Trump's Visit To Baltimore https://t.co/lRvDx0RCEU pic.twitter.com/ihZp7czVgd

— HEDGE energy (@HEDGEenergy) September 9, 2019
Police were called to the parking garage of 100 E. Pratt St., where the T. Rowe Price office is, around 11 a.m. on Monday morning about the first van.
"After several hours of investigating a suspicious vehicle, no bomb was detected," Baltimore Mayor Bernard C. "Jack" Young tweeted. "We are currently in the process of conducting precautionary sweeps in an effort to ensure public safety. These sweeps are expected to take several hours."
Mayor Young asked that people remain outside the evacuated area and find alternate transportation to get home. He said that he will send out an update when people are able to pick up their vehicles.
Again, we want to ensure everyone remains safe as we work through this matter.

The evacuated areas are:
East Baltimore Street to the north
Conway Street to the south
South Charles Street to the west
Commerce Street to the east pic.twitter.com/kYtnW8O2ZE

— Mayor Bernard C. Jack Young (@mayorbcyoung) September 9, 2019
No motive or explanation for the vehicle was announced at the time, but Investigators tell the Hal Turner Radio Show this was preparation for a terrorist fire-bombing.  
"Getting the fuel in the vans took a lot of time and was apparently done first.  Planting an explosive to detonate the whole thing was a quick task that could be done within seconds once the plan went into action."
The city police are being assisted by the Bureau of Alcohol, Tobacco, Firearms and Explosives.
 "The Baltimore Waterfront Marriott Hotel is the location of the planned GOP Political meeting and with TWO vans loaded-up with gasoline, they could either set two sides of that building ablaze to burn everyone inside, or set-off one van, then wait for First-Responders to arrive and set-off the other van to get THEM!  We're not certain of the exact plan, but this definitely appears to be a terror attack plot." said one person familiar with the investigation.
Hal Turner Remark: It appears the political left has plans to BURN US TO DEATH.
REMINDER: YOU can keep this web site FREE to the General Public by clicking one or more of the ads below which generates Advertiser revenue of two to three cents per click - no purchase necessary by you -- and helps offset operating costs for this web site.