Hurricane Dorian has increased in strength and is now a Category 3 Hurricane with sustained winds of 115 MPH. 
Florida Governor Rick DeSantis says the Shoulders of Interstate Highways will be open for use as travel lanes for those evacuating.  
If you are in South Florida you better get out no later than this afternoon. Remember there is only one way out of Florida and that's north. Don't wait till the weekend when millions of people will be leaving at the same time.
INADEQUATE BUILDING CODES - HOUSES WILL FAIL
From a Hal Turner Show listener:
"My Grandfather was chief building official and engineering for the city of Coral Gables MIAMI from about 1939 until about 1987. He watched how the building codes became very relaxed as major developers moved into south Florida in the late 70's and through the eighties. 

We had a long dry spell of no hurricanes during this time. Build it outta concrete and you will never have to worry. 

After college I went to work for a Subsidiary of Westinghouse building homes Boca, Delray, Boynton beach, etc., though I lived in Jupiter and would commute. 

Wood frame construction is very prevalent from Palm Beach Gardens north Juno Beach, Jupiter, and Stuart.  Many of these homes were built at the same time: 70's through the late 80's were constructed when our building codes were lax to say the least.

If this storm takes the track anticipated and comes in as a category 4 we are looking at Massive structural failures of single-family homes and townhomes built out of wood. "
From Electric Grid Operators:
The latest power outage forecast for the state of Florida calling for *at least* 7.5 million people to be without power from Hurricane Dorian. These numbers will continue to increase. Dorian's slow impact to the state will only serve to extend how long people are without power.
People in Florida are URGED to evacuate before this storms begins affecting the state.
LATEST FROM NHC
The National Hurricane Center (NHC) reports as of 5:00 AM EDT on Friday, August 30, that Hurricane Dorian is expected to strike the east coast of Florida, with 140 MPH (Category 4) winds and intense, deadly,  "storm surge"  and 24 inches of rain within 50 miles of the coast from Miami to North Carolina!  UPDATE: Ocean Buoys recording 20.7 FOOT Waves!
People along the coast should have PLANS for evacuation as the storm approaches.   Storm Surge is what kills most victims in hurricanes and it happens within minutes.
---
Here is the latest Global Forecast System (GFS) computer model: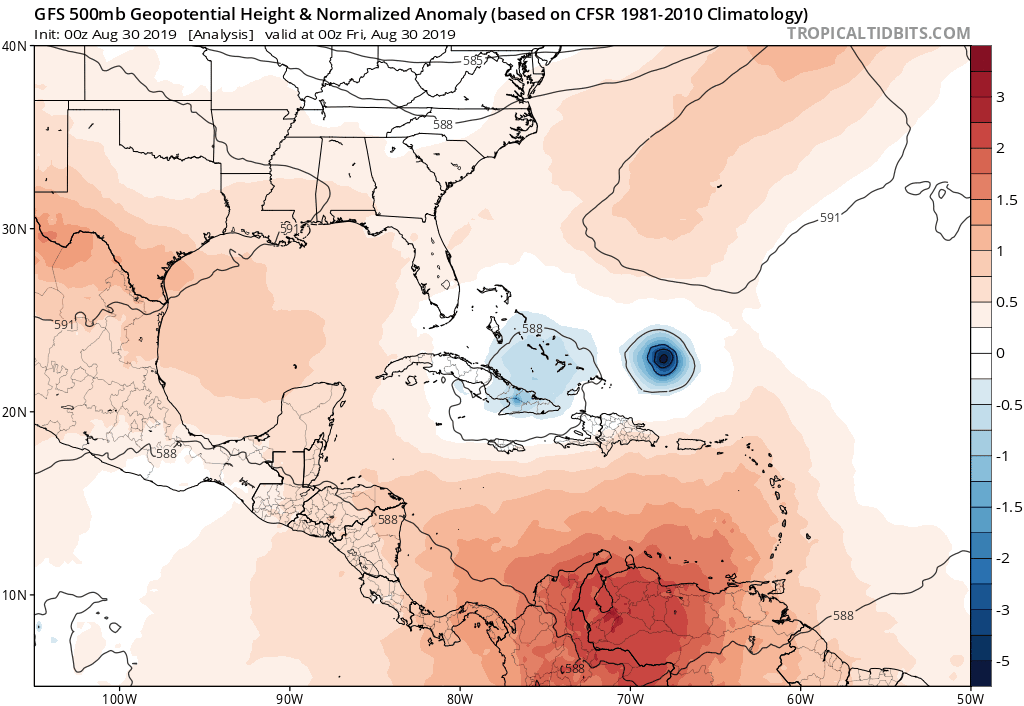 As seen on the model above, the worst of the storm will begin striking Monday afternoon, with landfall of the "eye" happening early Tuesday morning.  Once the hurricane force winds begin to strike the coast Monday, things will get steadily worse as the eye moves toward shore.
The fierce winds - expected to be around 140 MPH -- will push the ocean water onto shore in what's called storm surge.  This surge could exceed twenty-five FEET.  Homes and other buildings within a mile of the coastline will be completely inundated by water and waves crashing on top of that water.   Once the surge begins, it will rise to twenty five feet within three to five MINUTES.
Folks who have not evacuated BEFORE the storm surge begins, have NO CHANCE OF SURVIVING.
Residents must have an evacuation plan, where they will go and how they will get there, BEFORE the storm arrives.  Do not wait until you see it getting bad, to leave.  If you wait, once you see it getting bad, it will get too bad for you to leave, within minutes.
24 Inches Rain
As shown on the rain forecast below, areas within 50 miles of the coast from Miami, FL, thru Georgia, South Carolina, and the coast of North Carolina are expected to be deluged with twenty-four (24) inches of rain.   So if the wind and the storm surge doesn't get you, the flooding from two feet of rain will.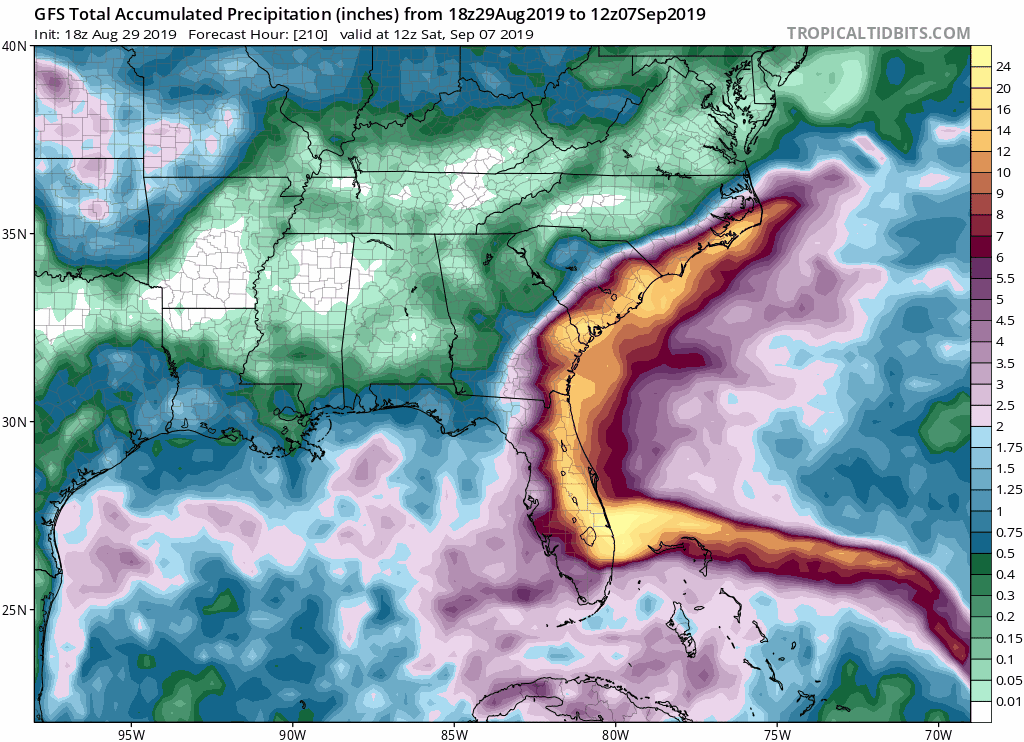 STUPIDITY STRIKES ALREADY . . .
The reason this story is emphasizing evacuation has to do with certain acts taking place now in Florida which appear to many people to be outright stupidity.
These Hurricane Party Cakes were photographed at a PUBLIX supermarket in Florida:
Somehow, we doubt the hurricane will take the message from these cakes and "Go Away"
Although when the storm surge smashes down the walls of houses, it might carry these cakes away . . . . and carry away any idiots who thought they could face-down one of the most fierce examples of nature's awesome power.
UPDATE 7:26 AM EDT --
Earlier this morning, Dorian passed about 30 or so miles west of this Buoy "Station 41046 - EAST BAHAMAS - 335 NM East of San Salvador Is, Bahamas" (this Buoy reports the weather data every 10 minutes). At 12:50 AM EDT the Maximum Wave Height was  "20.7 ft."
Persons living along the Florida east coast should stop and think about this very carefully.  20 foot waves on top of storm surge.  Houses will NOT survive -- neither will anyone inside them.
UPDATE 7:48 AM EDT -- 
First morning flight recon pass through Dorian's eye finding pressures estimated around 969mb with surface winds of ~110 mph in the NE eyewall.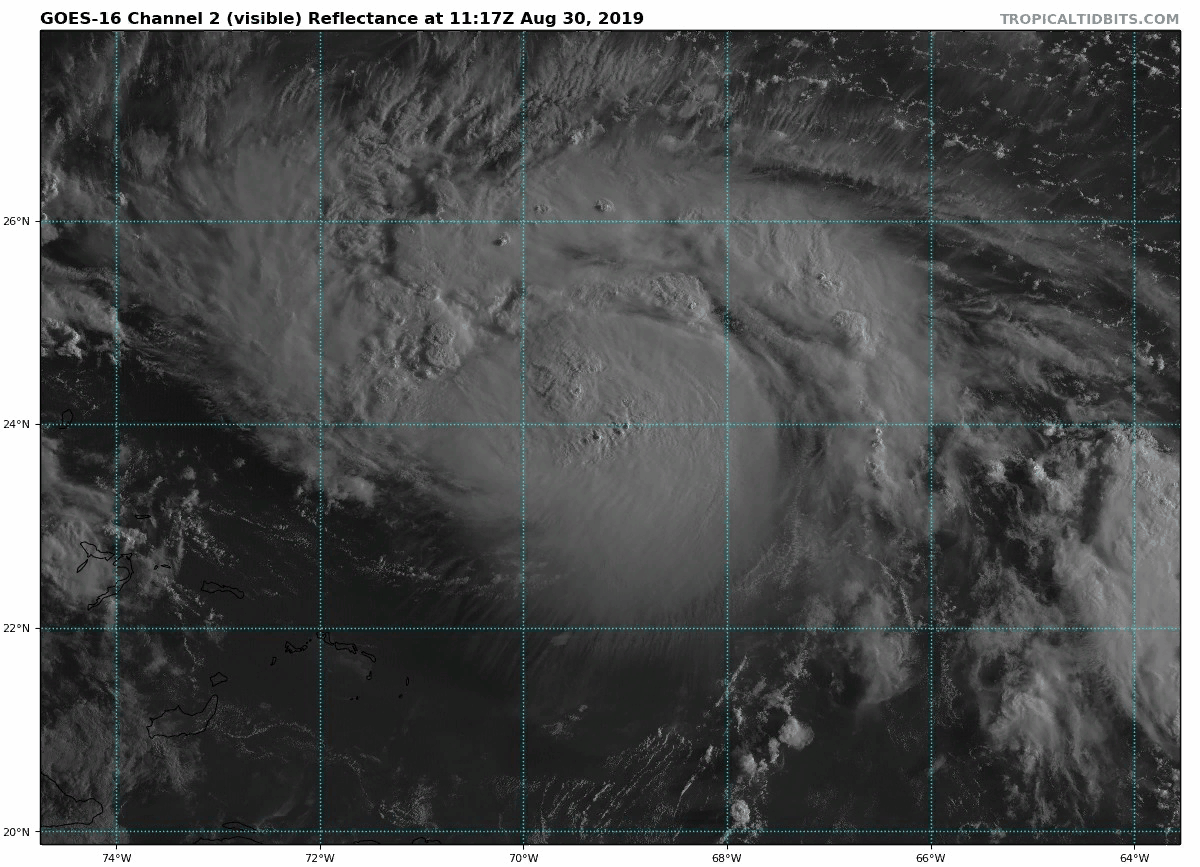 UPDATE 8:50 AM EDT --
967.9 mb Barometric Pressure

100 knots sustained winds.

That's 115mph, which is  Cat 3.
UPDATE 10:30 AM EDT --
Between 10:00 and 10:20 this morning, the "eye" of the Hurricane cleared-out of its cloud cover and is now clearly visible.  This storm is gaining strength at an unbelievable rate.  Fascinating and terrifying at the same time: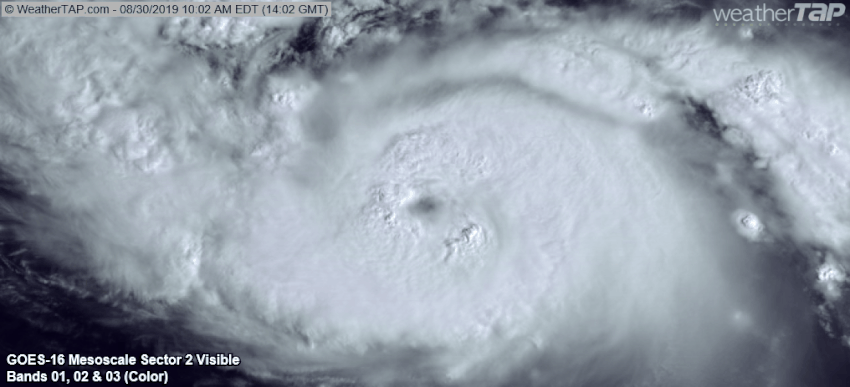 UPDATE 10:56 AM EDT --
Weather Expert RyanMaue just said "Hurricane Dorian has developed an eye. Expecting it to become a major hurricane today.  Nothing currently stopping storm from reaching Category 5. There I said it."
UPDATE 2:00 PM EDT --
Government now officially (publicly) Confirming "Category 3 Major Hurricane"
Readers of this web site knew that info FIVE HOURS EARLIER as shown above in the Update 8:50 AM
---------
Only 24 hours left to raise Funds for September
SHORT ~$1,202.00
The continued operation of this web site is now in jeopardy and I'm asking for some help.
Last month I got sort of "scolded" about how long I took to raise funds - I did for a whole week. So this month, I went low-key. I put ONE Fund raising story up last Thursday and left it at that. WOW did that fail.

Here's what came in:
Randy W. $20, Kristen T. $20, William C. $10, Richard H. $5, "HJ" $25, Skye C. $5, MaLisha G. $20, Charles G. $20, Gayle S. $30, Jeanne R (France) $400, Jim V (AZ) $300.
So on Wednesday, I "sounded the alarm" by putting a big notice on my front page.

WEDNESDAY BEFORE RADIO SHOW:
Michael H. $10, Alex D. $10, Joseph A. $10, Sharon J. $4, Robert M. $30., Linda N. $10., Richard M. $25., Daniel T. $20, Margo D. $30., Dawn S. $20, Jim D. $25., Ann M. $40., Carsten S. $10., Natalie V. $10., Peter V. $8., Bertram A. $10., William M. $10.,  Bernadette S. $20., Philip L. $26.

DURING WEDNESDAY NIGHT RADIO SHOW:
Frederick R. $75, Arthur B. $50, Thomas D. $5, Stephen Y. $50, David C. $25, John P. $10, Philp L. $20, Karl K. $5, Jim M. $20, Paul L. $10,  . . . .   

AFTER RADIO SHOW:
Kevin M. $50, Jennifer G. $100, Moses C. $10, Alfred D. $25, "NJ" $10, Jeff B. $20, DeborahE. $25.


THURSDAY:
Donations came in as follows:  Thomas C. $100, Frank A. $10, Eric S. $50, Tommy H. $10, Michael M. $30, Stephanie W. $20, Brandon S. $10.



That tallies $1898. out of the approximate $3100 needed to fund the web site and radio show thru September.  SHORT ~$1,202

I now have 24 Hours to raise the rest or I'm in big operational trouble. I need YOUR immediate financial help. Please click the DONATE Button below to help out.


Here's how things go if we do NOT make it:  Amazon Web Services will attempt to debit my checking account and if the charge is DECLINED, I will be given until the 28th of September to pay.  If the money remains unpaid on that date, THIS WEB SITE WILL BE SHUT OFF BY AMAZON FOR NON-PAYMENT.  It's not me doing this, it's them.  Hopefully, some of the tens-of-thousands of people who come here each week will step-up and send a few bucks so we don't face that shut down.


If you enjoy the news, commentary and opinion you find here, PLEASE click the DONATE button below and make a donation right now.
There are no paying commercials on my radio show.  That is by design.  When a media outlet allows real free speech as I do on my show, and covers news and issues the mass-media will not report, the way the politically-correct crowd works to silence that is via Advertiser Boycotts.
If a media outlet is beholden to advertiser dollars, and the advertiser starts getting a slew of Boycott calls and emails, the advertiser calls the media outlet and says "you've got to stop talking about such-and-such because I'm being boycotted.  If this talk does not stop, I will have to PULL my advertising dollars."  And THAT is how the radicals silence speech they disagree with!
Since its inception in June of 2000, this radio show has been listener-supported.  This web site has been reader-supported.  That means YOU!
It may be FREE for you to read the stories here, but it is not free for me to publish them.  Each time you read, I GET BILLED for "data transfer" to send the stories and images to your computer.  Those bills add-up to a lot of money.
Then too, the radio show costs big bucks to air on global high frequency stations WBCQ and WRMI.  That radio air time must be paid for IN ADVANCE.
Of course there are six phone lines to accommodate callers; they have to be paid.
And there are other costs like studio time, music licensing fees, Fiber-optic connection lines and so on.
In order to meet these costs, I need folks like YOU to step-up and support this endeavor with a few bucks.  Some of you can only afford to send two or three dollars.  Others $10 or $20.   Some $25, $50, or even $100.  Rarely, folks donate $300, $400, or even in one case $650.
Whatever amount you can donate is essential; every little bit helps.

Please show that the REAL news found here, and broadcast on my radio show is worthy of your support by clicking the yellow DONATE button below.   I simply cannot do this without YOUR help.


Please use either your Credit/Debit Card or Paypal via the DONATE button below to make a contribution.  Every little bit helps! 
Those of you who cannot or will not use online financial transactions can mail cash, check or Money order payable to:
Harold Turner
1906 Paterson Plank Road  - Apt. 1A
North Bergen, NJ   07047-1902
USA
REMINDER: YOU can keep this web site FREE to the General Public by clicking one or more of the ads below which generates Advertiser revenue of two to three cents per click - no purchase necessary by you -- and helps offset operating costs for this web site.