The weather situation in the Gulf of Mexico is weird and growing stranger by the hour.   It began when a low pressure system moved off land, SOUTH into the Gulf of Mexico from Georgia and Florida, where it began to muster strength from warm Gulf waters and grow in intensity.   Storms don't usually move south off land into the Gulf; normally they move north from the Gulf onto land.
Now drenching bands of rain are soaking areas from Florida to Louisiana and weather models are saying this could become a HURRICANE!
It began as a low pressure system called "Invest 92L" by the National Weather Service.   It has grown into Tropical Storm "Barry."
As of Wednesday afternoon at 3:45 PM eastern time, the storm is dumping huge amounts of rain and seems to be organizing itself into a Hurricane.
The UK Met computer model shows this: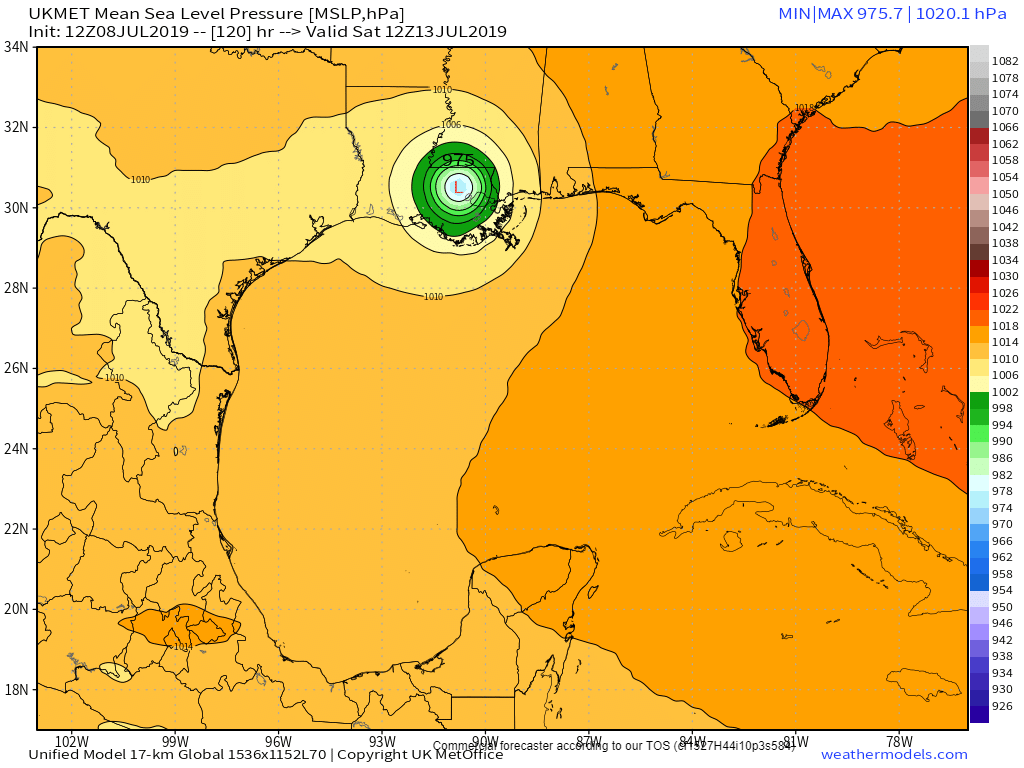 The most recent visible satellite image shows this thing getting strong, fast:
Tropical Weather Outlook
NWS National Hurricane Center Miami FL
200 PM EDT Wed Jul 10 2019

For the North Atlantic...Caribbean Sea and the Gulf of Mexico:

The National Hurricane Center is issuing advisories on Potential
Tropical Cyclone Two, located over the northeastern Gulf of Mexico
less than 200 miles east-southeast of the mouth of the Mississippi
River.
* Formation chance through 48 hours...high...near 100 percent.
* Formation chance through 5 days...high...near 100 percent.

$$
Forecaster Stewart
"EXISTENTIAL THREAT FOR NEW ORLEANS"
One weather expert put it this way:
"Our general thinking remains that the most likely landfall location for the storm's center will be somewhere between Galveston and New Orleans. Because heavy rainfall appears to be the primary threat, bar rapid intensification—which is not expected, but can't be ruled out—the greatest impacts will be to the right of the storm's landfall. Therefore the likelihood is that the worst effects of this storm, rainfall of 10 to 20 inches, remain for now east of Houston. However, until the center forms, we really cannot have particularly high confidence in such a prediction. Bottom line: If I lived in the greater Houston area, I'd be paying attention to forecasts, but I wouldn't be freaking out at this time.

If the most likely scenario does play out, it will lead to significant problems for southern Louisiana, as parts of the New Orleans metro area have already received 10 inches or more of rainfall.
Levees in and around New Orleans are already dealing with massive amounts of water, and early reports are starting to come in that some of them are failing.  
MORE:
If the Mississippi River breaches the levee system designed to hold it on its present course, it would cripple America's agricultural and petrochemical industries, deal a potentially fatal blow to New Orleans, and change the course of American history.
Said one government weather forecaster:
It's time to start grasping the reality of what Barry could do to New Orleans over the next 3-5 days. Lets start with Katrina. In 2005 prior to Katrina, the Mississippi river level was at 3 feet above sea level. A massive 13 foot storm surge brought the river to 16 feet.
Due to recent flooding, the MS river is already at 16 feet. A surge of 3-5 feet is expected from soon-to-be-Barry, bringing forecasted surge to 19-21 feet Saturday morning. The levees can handle surge up to 20 feet before failing.
This unfortunate series of events - an early-arriving tropical storm coming while the Mississippi river is already flooded - poses an existential threat to the entire city of New Orleans.
Now is the time to issue evacuation orders.  If the government waits much longer, it will be too late.
 NATIONAL HURRICANE CENTER CALLS IT: HURRICANE!
UPDATE 4:45 PM EDT --
..HURRICANE WATCH ISSUED FOR PORTIONS OF THE SOUTHERN COAST OF LOUISIANA... ...HEAVY RAINS EXPECTED TO CONTINUE ACROSS THE CENTRAL GULF COAST...
UPDATE 5:00 PM EDT --
Computer models now forecasting TWENTY-EIGHT POINT SEVEN INCHES OF RAIN!! ! ! !
UPDATE 5:20 PM EDT --
A MANDATORY EVACUATION ORDER has been issued for Plaquemines Parish shown on the map below:
UPDATE 6:40 PM EDT --
To give you an idea of how swollen the Mississippi River ALREADY IS, take a look at the video below from about 6:00 AM CENTRAL time this morning.   This video is taken from atop one of the levees  . . .  before the storm even arrives.   As you will quickly glean, there is no room for more rain, or more flooding or a storm surge.  It will over-top the levee within hours:
YOU can keep this web site FREE to the General Public by clicking one or more of the 12 ads below which generates Advertiser revenue of two to three cents per click - no purchase necessary by you -- and helps offset operating costs for this web site.