Tornado Condition ten (TorCon 10) has been declared for north Texas and western Oklahoma by the National Weather Service.  This is the highest, most severe, Tornado Conditions Warning available - one that has not been issued anywhere for TEN YEARS!  Residents are urged to remain close to shelter all day today and into tonight - Long-lived and Violent Tornadoes are ASSURED to develop.
The map below shows the danger areas: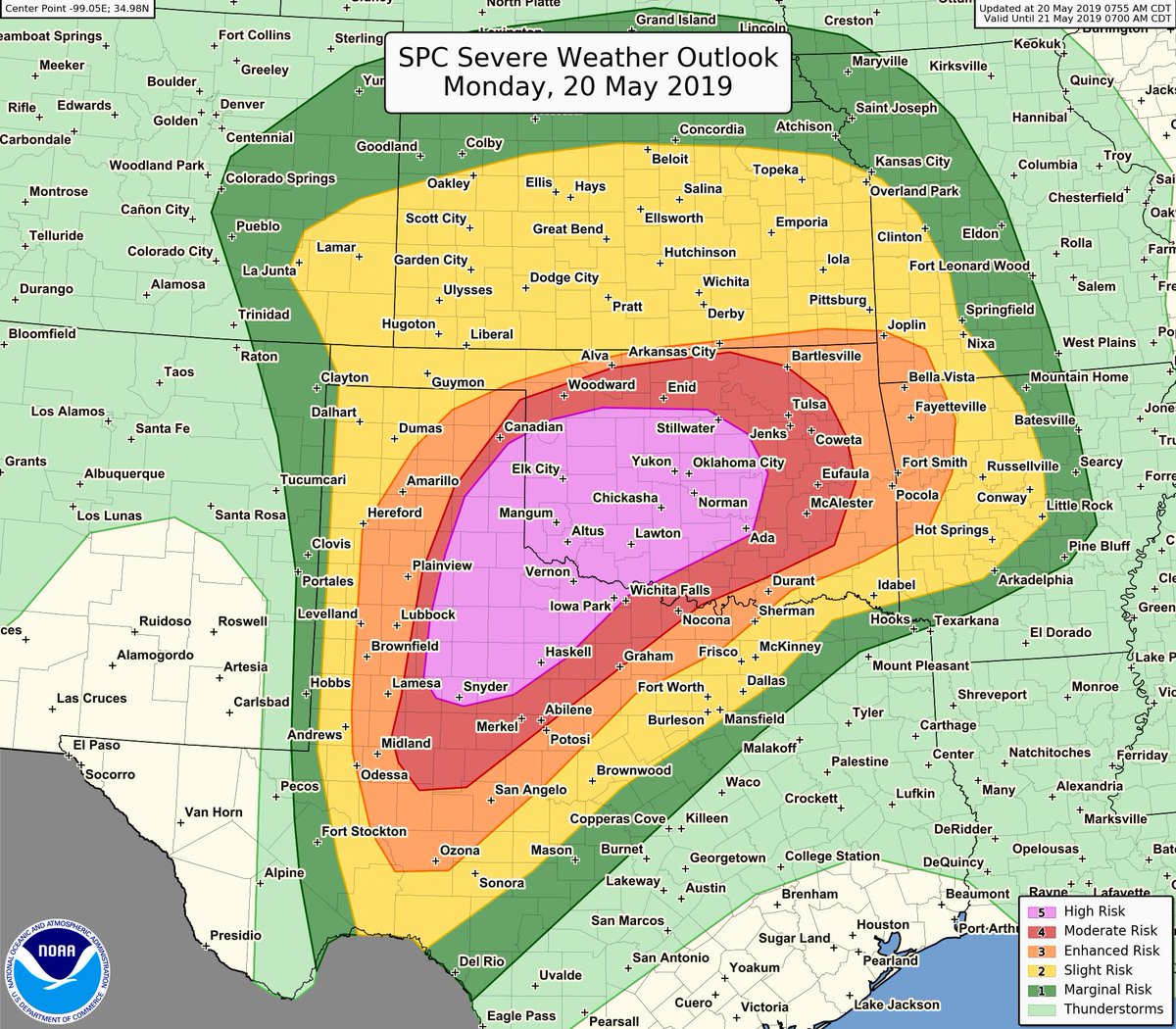 This satellite imagery shows the enormous rotating "super cell" thunderstorms -- some 100 miles wide -- already forming over north Texas and western Oklahoma: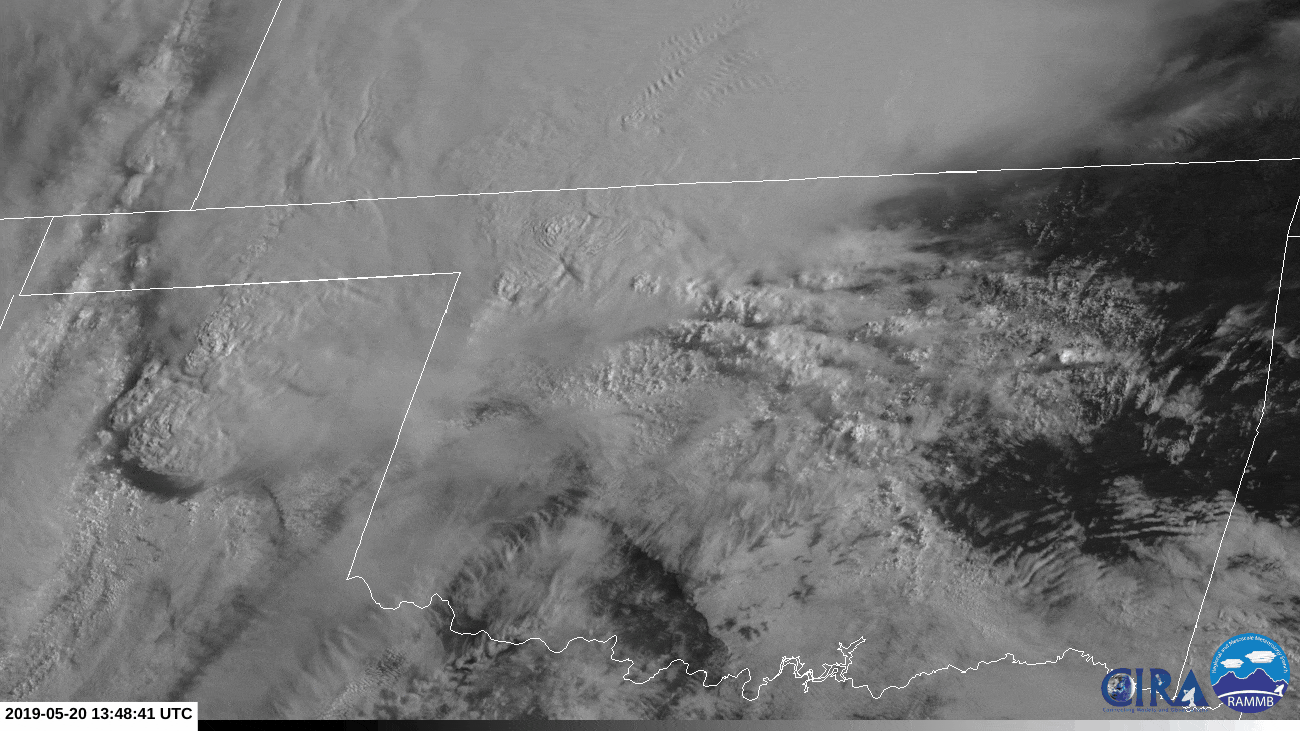 This still image shows the super cells:
 These super cells are already producing thunderstorms with straight-line winds gusting to NINETY (90) miles per hour, and unleashing Golf ball-sized hail: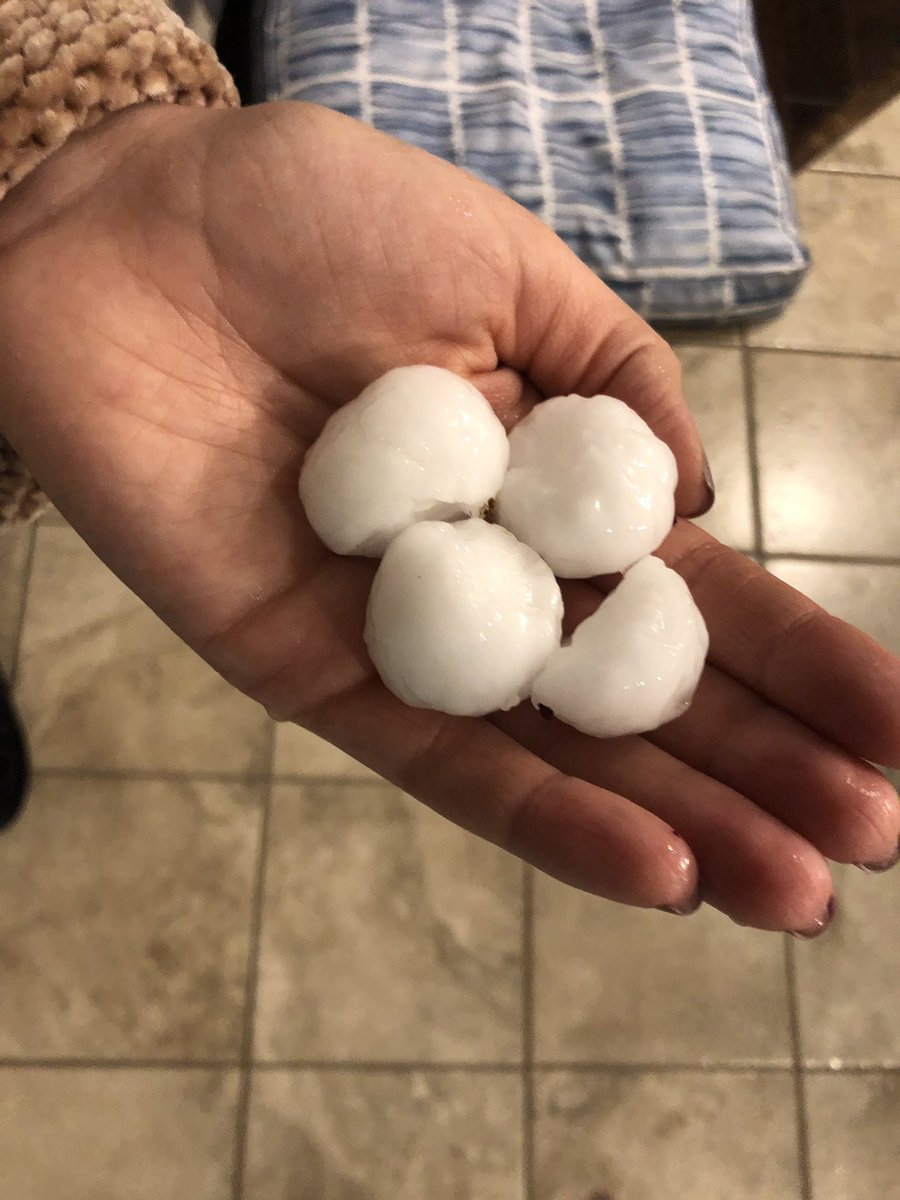 These storms will grow in strength all day and into the night.  NUMEROUS tornadoes are forecast to strike in the warning area.  These are expected to be large, long-lived, and "Violent" tornadoes.
Such a lovely morning in the #txpanhandle #txwx didn't anticipate this so the pickup got to weather the storm pic.twitter.com/oPizeWrcsq

— Cameron McAnally (@ccmac_OSU) May 20, 2019
Persons in the warning area are urged to stay close to a shelter all day and into the night tonight (Monday) and have Emergency food, water, flashlights, batteries and a radio nearby at all times.
This is the most dangerous outbreak of severe storms in more than ten years.  Take appropriate precautions.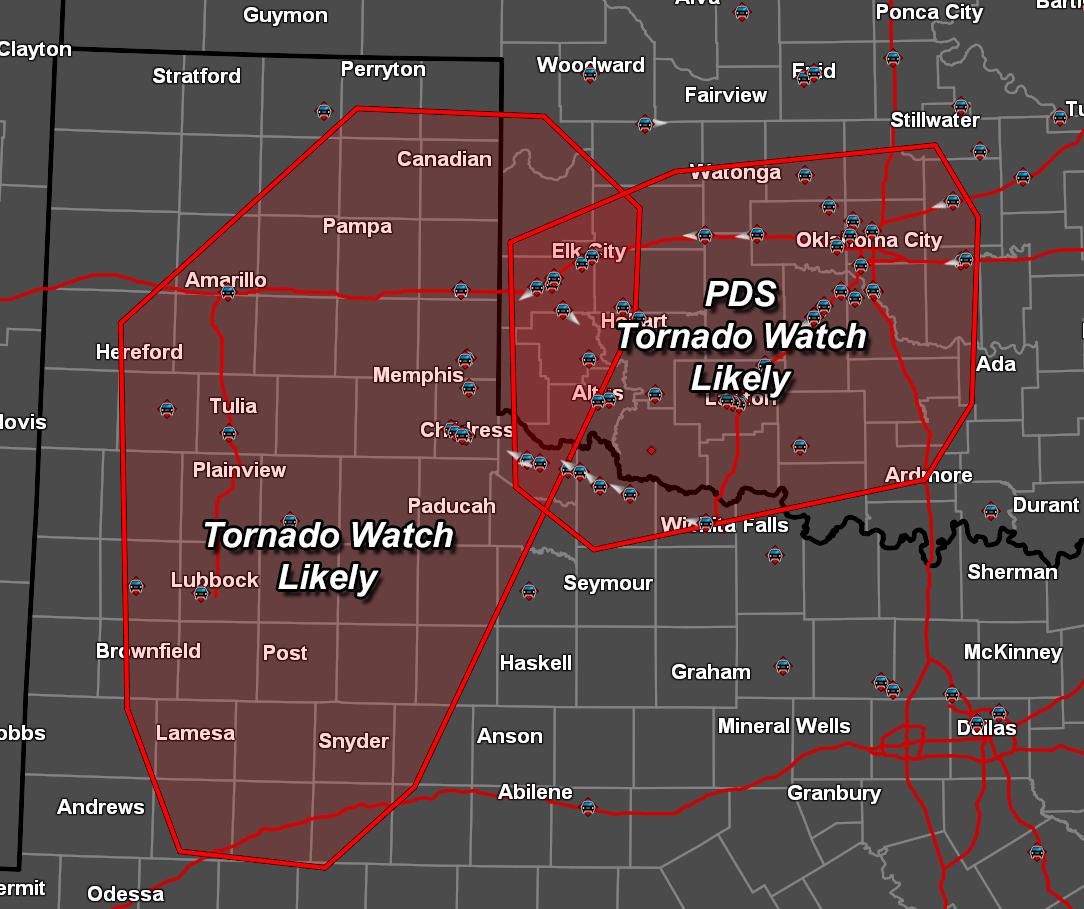 UPDATE NWS ALERT --
URGENT - IMMEDIATE BROADCAST REQUESTED
Tornado Watch Number 197
NWS Storm Prediction Center Norman OK
1235 PM CDT Mon May 20 2019

The NWS Storm Prediction Center has issued a

* Tornado Watch for portions of 
West Texas including much of the Panhandle

* Effective this Monday afternoon and evening from 1235 PM until
800 PM CDT.

...THIS IS A PARTICULARLY DANGEROUS SITUATION...

* Primary threats include...
Numerous tornadoes expected with a few intense tornadoes likely
Widespread large hail and scattered very large hail events to 4
inches in diameter expected
Widespread damaging wind gusts to 70 mph likely

SUMMARY...Intense tornadic supercell thunderstorms are expected to
develop across west Texas as the eastern half of the Texas
Panhandle. In addition to the risk of strong tornadoes, very large
hail and damaging winds are likely in the strongest cells.

The tornado watch area is approximately along and 55 statute miles
east and west of a line from 50 miles east northeast of Amarillo TX
to 35 miles east of Big Spring TX. For a complete depiction of the
watch see the associated watch outline update (WOUS64 KWNS WOU7).
UPDATE 1:55 PM EDT --
Collinsville, OK -- "It came out of nowhere!"
Meanwhile in Texas . . .  BASEBALL SIZE 
Storm moving south of Dumas just crossed HWY 87 with hail size increased to baseball size just east of Four Way, TX. #phwx

— NWS Amarillo (@NWSAmarillo) May 20, 2019
2:57 PM EDT --  It begins . . .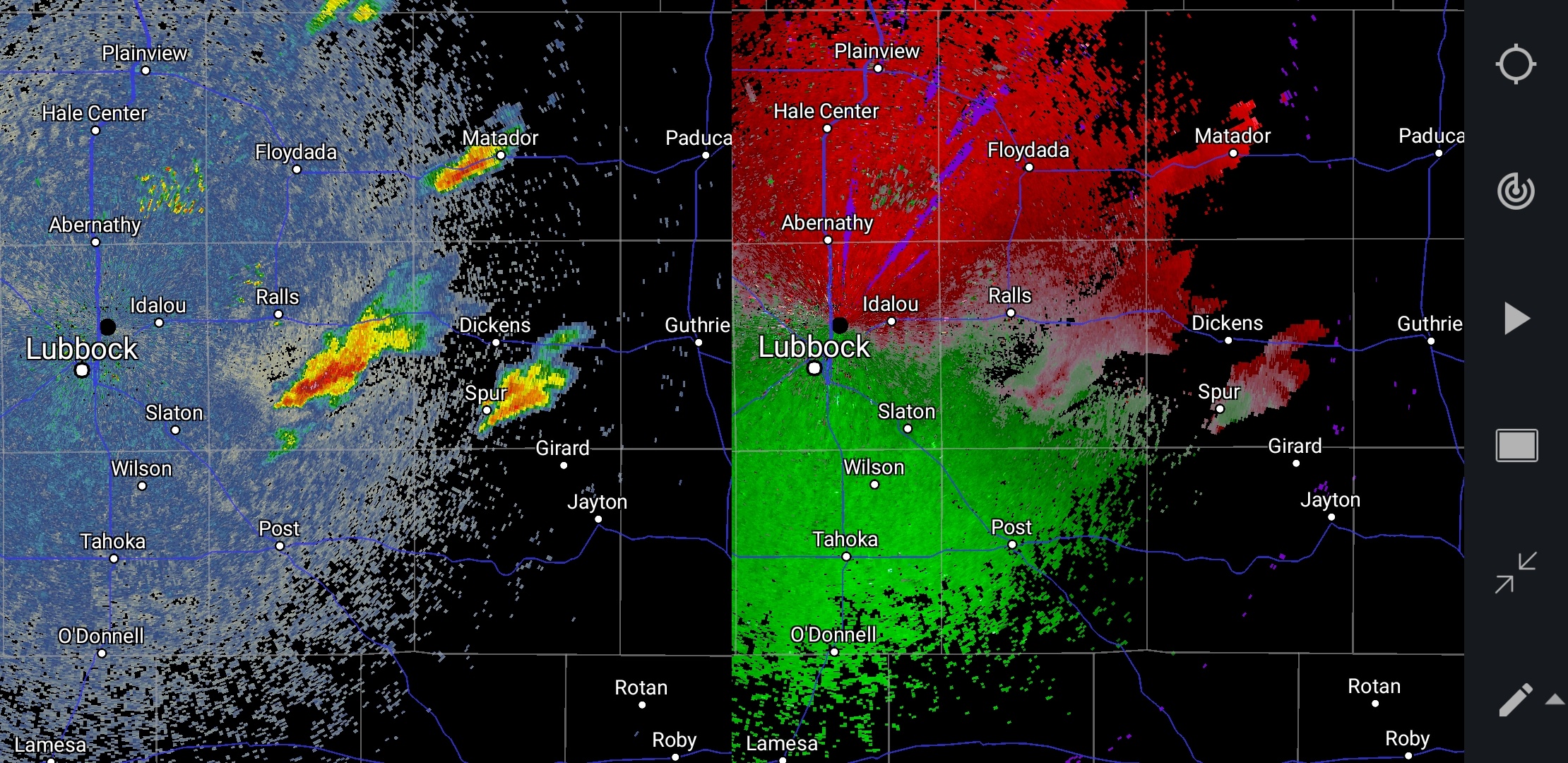 REMINDER: If you find this web site helpful, please take a second to click one or more oft the ads below to help generate revenue for us to keep this site alive.  If ads are not for you, please take just a moment to DONATE or become a Subscriber for $1 a week.